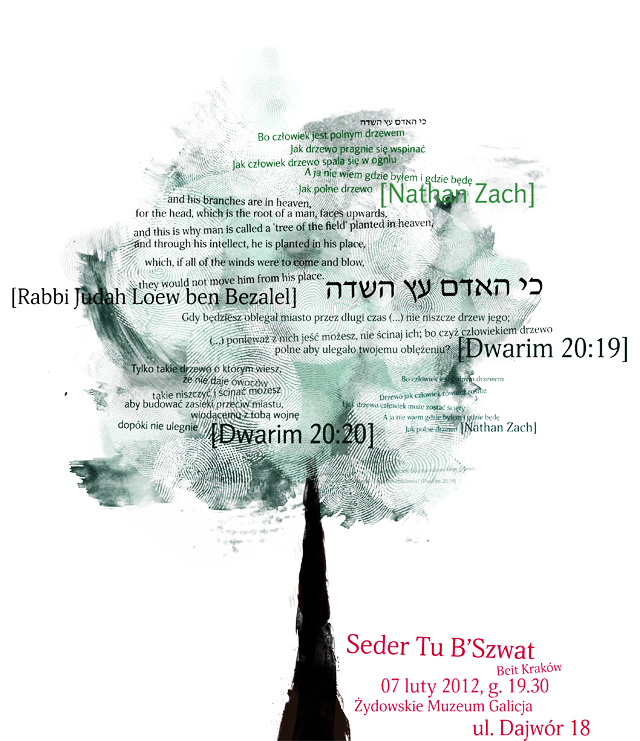 [Posłuchaj | Listen to] Nitzanim Niru Baaretz By Nachum Heiman 
W najbliższy wtorek obchodzimy Nowy Rok Drzew. Zwyczajem wypracowanym przez kabalistów z Safed będziemy celebrować go Sederem Tu B'Szwat z owocami i winem oraz studiowaniem. Bogaty w symboliczne znaczenia Seder to okazja do refleksji nad rozmaitymi zagadnieniami, jak choćby: relacjom świata materialnego i duchowego, stosunkiem człowieka do otaczającego go świata, świadomym i odpowiedzialnym wykorzystywaniem zasobów czy osobistym rozwojem duchowym. Szczególne miejsce w naszych rozważaniach poświęcimy także naszej więzi z Erec Izrael. Serdecznie zapraszamy do wspólnego świętowania i studiowania.
This Tuesday we celebrate the New Year of Trees. Following the custom of the kabbalists of Tzfat we will celebrate it with a Tu B'Shvat Seder with fruit, wine and study. The Seder is so rich in symbolic meanings that it provides a great opportunity for reflection on various issues such as: the relationship between the material and the spiritual world, the relationship of man to the natural environment, the consious and responsible use of resources or our own personal growth. We will also dedicate a special place in our dicsussions to our bond with Erec Israel. We cordially invite you for a communal celebration and study.