W II-gim roku projtku Midrasz Lab powstawaly muzyczne midrasze autorstwa Michala Pal'ko, zwiazane z Piecioma Ksiegami Tory. Pod koniec roku na bazie tych Midraszy Powstał spektakl Megilat Polin, zaprezentowany podczas Festiwalu Kultury Żydowskiej 2013 w Krakowie.
Projekty zrealizowany przy wsparciu L.A. Pincus Fund for Jewish Education in the Diaspora and the Jewish Distribution Committee.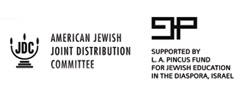 In second year of Midrash Lab project musical midrashim came to live by hand of Muchal Palko, midrashim connected to Five Books of the Tora. At the end of the year, based on those midrashim an unique spectacle Megilat Polin was created and presented at Jewish Culture Fesitval 2013.
The Midrash Lab Project is supported by: The Pincus Fund for Jewish Education in the Diaspora oraz The American Joint Distribution Committee
Midrasz Muzyczny "ABIA" |
Musical Midrash "ABIA"
Megilat Polin
(Presentation Day)
Szema Israel (150lecie Tempel) |
Shema Israel (150y of Temple)
Muzyczny Midrasz "Szirat HaJam"
(Seder Pesach 5773) |
Musical Midrash "Shirat HaYam"
(Pesach Seder 5773)
Muzyczny Midrasz "Majim"
(Tisha B'Aw 5772/2012) |
Musical Midrash "Mayim"
(Tisha B'Aw 5772/2012)
Tikkun Leil Szawuot(wprowadzenie)


Tikkun Leil Shavuot (introduction)