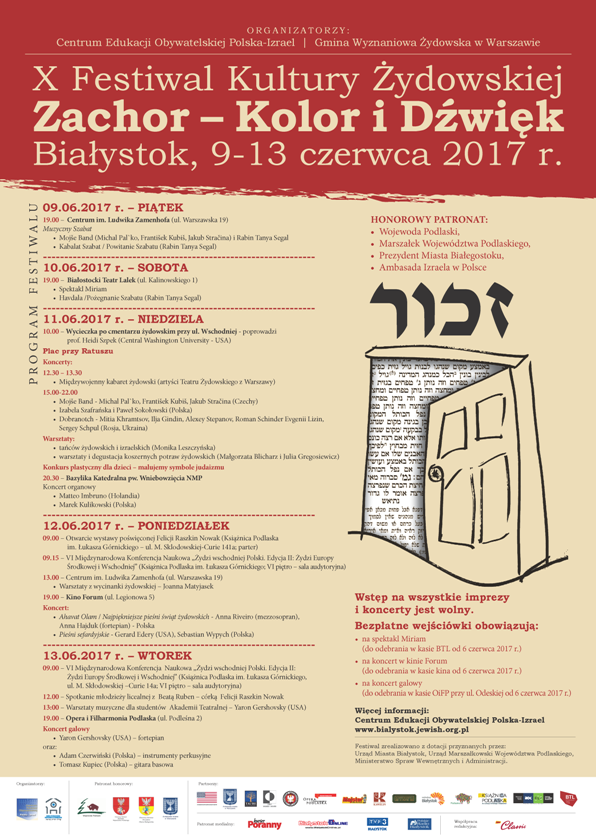 Tych którzy wybierają się na X Festiwal Zachor w Białymstoku informujemy, że o 19.00 w Centrum im. Ludwika Zamenhofa w Białymstoku odbędzie się muzyczne przywitanie Szabatu z Rabin Tanyą Segal i Mojše Band. A w niedzielę o 17.00 "Jankiele" w wykonaniu Mojše Band – serdecznie zapraszamy!
Więcej o X Festiwalu Zachor w Białymstoku >>
Więcej o projekcie Szabat Muzyczny: www.musicalshabbat.com
Więcej o "Jankielach": jewishtheatre.krakow.pl/jankiele/
——
Those who have plans to visit 10. Zachor Festival in Bialystok next weekend we want to invite to join us for Musical (kabbalat) Shabbat in Centrum im. Ludwika Zamenhofa at 7.00 p.m. And on Sunday at 3.00 p.m. you can also join us for "Jankiele" performed by the Mojše Band.
Read more about the 10. Zachor Festival >>
Read more about Musical Shabbat at www.musicalshabbat.com
Read more about "Jankiele: jewishtheatre.krakow.pl/jankiele/
Drodzy, w tym tygodniu niezwykłe postępowe muzyczne nabożeństwo Kabalat Szabat (7.04.2017 – Szabat HaGadol) o g.19.00 w Synagodze Wysokiej. Nabożeństwo poprowadzi Rabin Tanya Segal wraz z Michałem Pal'ko i zespołem MOJŠE BAND. Serdecznie zapraszamy i Szabat Szalom! — Dear Friends, Join us for an unique progressive/reform Musical Shabbat – Kabbalat Shabbat service (April 7th 2017 – Shabbat HaGadol) at 7.00 p.m. in the High Synagogue, led by Rabbi Tanya Segal with Michal Pal'ko and The MOJŠE BAND. Shabbat Shalom!#musicalshabbat#beitkrakow

Opublikowany przez Beit Kraków na 6 kwietnia 2017