הֲשִׁיבֵנוּ ה` אֵלֶיךָ ונשוב, חַדֵּשׁ יָמֵינוּ כְּקֶדֶם
Turn Thou us unto Thee, O LORD, and we shall be turned; renew our days as of old.
Wróć nas do Siebie o Adonai, a wrócim. Odnów dni nasze jak za dawna.
(Eicha 5:21)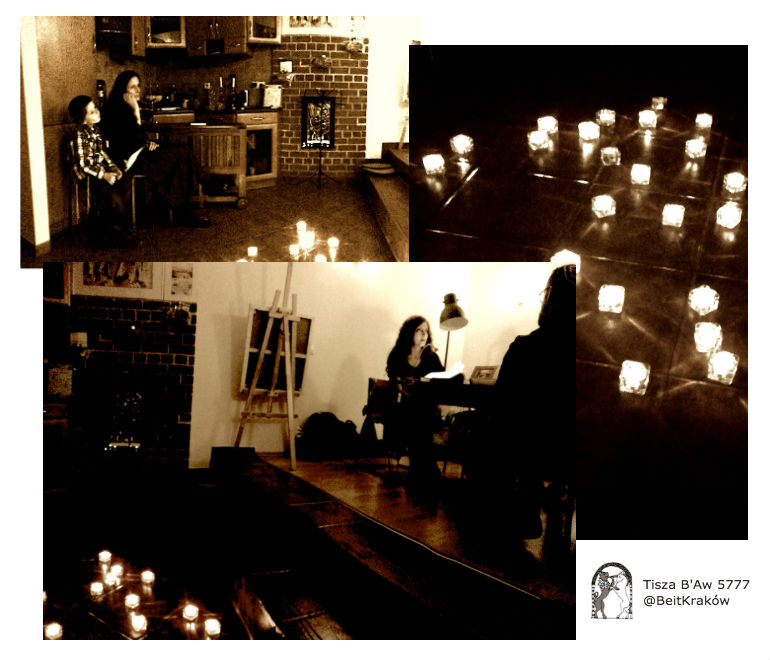 Dziękujemy wszystkim, którzy uczestniczyli w czytaniu księgi Eicha i studiowaniu komentarzy, midraszy i Zoharu w Beit Kraków.
W tym tygodniu zapraszamy na Szabat Nachamu – Szabat Pocieszenia.
Many thanks to all for coming yesterday to our megilat Eicha reading and commentary, midrash and Zohar study at Beit Kraków.
Join us next week for Shabbat Nachamu – Shabbat of consolation.
עַל נַהֲרוֹת, בָּבֶל–שָׁם יָשַׁבְנוּ, גַּם-בָּכִינוּ: בְּזָכְרֵנוּ, אֶת-צִיּוֹן
By the rivers of Babylon, there we sat down, yea, we wept, when we remembered Zion.
Nad rzekami Babilonu siedzieliśmy i płakaliśmy wspominając Cyjon.
(Psalm 137:1)