Szabat Szalom!
Za nami 25. Festiwal Kultury Żydowskiej, dobry, radosny, bogaty w treści artystyczne, duchowe, intelektualne, emocjonalne, edukacyjne, integracyjne etc.
Dziękujemy Wszystkim, którzy byli razem z nami w tym czasie!
Szczególnie dziękujemy Żydowskiemu Muzeum Galicja, za ogromną pomoc i wsparcie.
Dwukrotnie (26 czerwca i 03 lipca) porwał nas, oczarował i zachwycił Muzyczny Kabalat Szabat, który, jak co roku, poprowadziła dla nas Rabin Tanya Segal wraz z zespołem Mojše Band. I jak co roku licznie przybyli goście w liczbie ponad 500 osób!, i ci młodsi – roztańczeni, i ci starsi – rozmarzeni, pokazali nam, że warto w taki właśnie sposób wspólnie łączyć się w śpiewie, modlitwie i razem witać Królową Szabatu. Już wkrótce radości muzycznego Szabatu będzie można doświadczyć codziennie – nie tylko podczas Festiwalu, za pomocą płyty CD, której wydanie planujemy w najbliższym czasie.

Wieczorem 27 czerwca Wiera Gran zatańczyła dla nas samotne tango, a nasze zmysły artystyczne wyostrzyły się i przenieśliśmy się do działającej na terenie warszwskiego getta Kawiarni Sztuka. Spektakl "Samotne tango Wiery Gran", pokazany w Żydowskim Muzeum Galicja, jest dziełem powstałym w Teatrze Midraszowym, pierwszym po wojnie Współczesnym Teatrze Żydowskim w Krakowie, którego inicjatorem, przewodnikiem, reżyserem jest Rabin Tanya Segal, będąca z wykształcenia nie tylko rabinem, ale i reżyserem teatralnym.
W dniach festiwalu w Galerii Trzecie Oko zagościła dla naswystawa – instalacja artystyczna "Dibrot". Powstała w technice realizowanego przez nas Midrasz Labu, dzięki owocnej polsko-kanadyjskiej współpracy malarki Agi Nowak i pisarza Jonathana Garfinkel'a, która była nowatorskim, malarsko-słownym komentarzem do Dziesięciu Przykazań.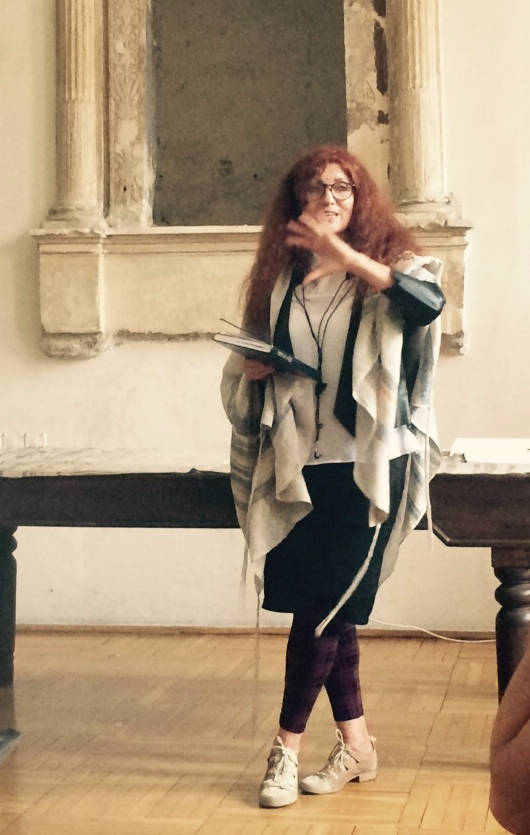 Podczas FKŻ mogliśmy też doświadczyć radości i wzruszenia Shelley Capozzi, Amerykanki, która powróciła do duchowego kręgu swoich polskich korzeni. W Synagodze Wysokiej, podczas nabożeństwa Szacharit, Shelley dokonała symbolicznej Bat Micwy. Była to pierwsza w Krakowie Bat Micwa dorosłej kobiety. Mazal Tow!
Dziękujemy Panu Wojciechowi Ornatowi i Gminie Wyznanionej Żydowskiej w Krakowie za udostępnienie nam synagogi.
4 lipca w Żydowskim Muzeum Galicja odbyło się spotkanie,panel dyskusyjny, debata, do której została zaproszona prezes Beit Kraków Magda Rubenfeld Koralewska. Rozmawiano na temat festiwali kultury żydowskiej w Polsce:"Cepelia" czy kultura? Debata Muzeum Historii Żydów Polskich Polin o jakości festiwali kultury żydowskiej.
Magda Rubenfeld Koralewska reprezentowała również Beit Kraków w czasie spotkania organizacji żydowskich, które odbyło się tuż przed Festiwalem, 24 czerwca w Warszawie, w Muzeum Historii Żydów Polskich Polin. Inicjatorem spotkania było Stowarzyszenie Żydowski Instytut Historyczny. Dyrektor MHZP przedstawił informacje o działalności programowej Muzeum i plany na drugie półrocze 2015. Przedstawiciele organizacji żydowskich przedstawili swoje uwagi na temat dotychczasowej współpracy z Muzeum oraz propozycje jej usprawnienia i wzmocnienia w przyszłości. Było to pierwsze takie spotkanie, za które społeczność Beit Kraków bardzo dziękuje. Cieszymy się z tej potrzebnej inicjatywy. Jednym z rezultatów spotkania było podjęcie postanowienia o powołaniu grup roboczych przy Muzeum. Członków Beit Kraków zainteresowanych udziałem w takich grupach, prosimy o zgłaszanie się do Magdy Rubenfeld Koralewskiej.Ponadto otrzymaliśmy pięć darmowych rocznych kart wstępu do Muzeum, które są możliwe do wypożyczenia przez członków BK w naszym biurze.Osoby chętne do Odwiedzenia Muzeum prosimy o kontakt z Anią Forystek.
Już teraz zapraszamy Was, Drodzy Członkowie i Przyjaciele Beit Kraków, na najbliższy Kabalat Szabat, który poprowadzi Rabin Tanya Segal. Szczególnie gorąco zachęcamy Was do przybycia, gdyż będzie to ostatni wspólny Kabalat Szabat w Galicji przed przerwą wakacyjną, która potrwa do 26 lipca, kiedy to spotkamy się na Tisza B'Aw.
W czasie najbliższego nabożeństwa towarzyszyć nam będzie grupa gości z USA, a z nią Rabin Jeffrey Salkin, niezwykle uznany człowiek nauki, autor wielu znanych i cenionych żydowskich publikacji w USA.
Żydowskie Muzeum Galicja, 10 lipca, godz. 19.00.
Serdecznie zapraszamy!
Szabat Szalom!
Shabbat Shalom!
The 25th Festival of Jewish Culture, rich in artistic, spiritual, intellectual, emotional, educational, social etc content has just come to an end. We want to thank to all of you who have spent this time with us. Our special thanks go out to the Galicia Jewish Museum and their staff for their professionalism and amazing help and support.
Twice during the festival (June 26th and July 3rd) we were taken and enchanted with Musical Kabbalat Shabbat service, which as every year was led by Rabbi Tanya Segal together with the Mojše Band. And as every year it drewnumerous guests – this time over 500! While the younger participants were dancing and the older praying in melancholy, we were once more reassured that this way of welcoming the Shabbat Queen is festival-appropriate. And soon enough Musical Shabbat will be available to anyone at any time, as a CD we are about to release.

On the evening of June 27th, Vera Gran danced for us her lonely tango, and sharpened our artistic senses to transfer us over to Cafe Del Arte, operating from within the Warsaw Ghetto. The performance "Lonely Tango of Vera Gran", performed in the Galicia Jewish Museum was created by the Midrash Theatre, the first post-war Jewish Theatre company in Krakow, initiated and working under the direction of Rabbi Tanya Segal. Educated as theatre director and as rabbi.
During the Festival we also showed an artistic encounter of text and image "Dibrot". Created in the technique of the Midrash Lab, the exhibition is a Polish-Canadian collaboration between a local painter Aga Nowak and a writer Jonathan Garfinkel. The installation is a modern commentary on the Ten Commandments.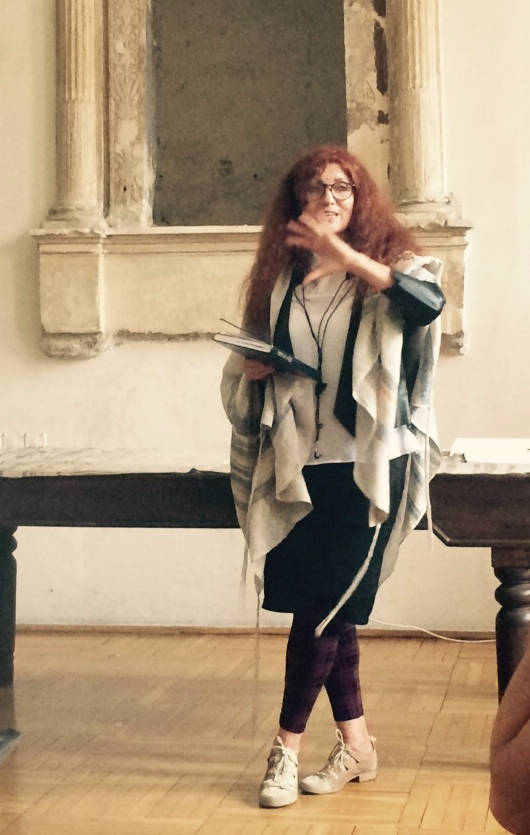 During the Festival we had also the privilege of experiencing the joy and tears of Shelley Capozzi, an American-born woman of Polish roots, who through a symbolic ceremony of an adult Bat Mitzvah, could connect to the circle of generations. It was a first adult Bat Mitzvah in Krakow.And we would like to take this opportunity to say once again Mazal Tov! And to thank Mr. Wojciech Ornat and the Krakow Jewish Community for making the space of the High Synagogue available for this event.
On July 4th Magda Rubenfeld Koralewska represented Beit Krakow in the panel discussion in the Galicia Jewish Museum. In a debate organized by the Museum of History of Polish Jews Polin the presenters discussed the condition and the future of Jewish culture festivals in Poland.
Chair of our board, Magda Rubenfeld Koralewska, also represented Beit Krakow during the meeting with Jewish organization organized by the Museum of History of Polish Jews, which took place in Warsaw in the prelude to the Festival on June 24th. During the meeting the director of the Museum presented the plans and activities of the museums and present organizations discussed their impressions about the hitherto cooperation and suggestions for the future. It was a first such meeting and at Beit Krakow we greatly appreciate such an initiative. One of the results of the meeting was a proposal to create a council of Jewish organizations cooperating with the museum on communication and other projects. We would like to invite our members who would like to represent Beit Krakow in such an endeavour to contact Magda Rubenfeld Koralewska.We have also received 5 yearly membership cards, allowing to enter the museum for free, which are available for loan to our members in the office – please contact Anna Forystek for details.
Last but not least, we hope to see you in the upcoming Kabalat Shabbat in the Galicia Jewish Museuem. Which will be our last Kabalat Shabbat before the holiday break. We meet again for Tisha B'Av on July 26th. During the upcoming Shabbat we will have the pleasure of hosting a group from USA, under the leadership of Rabbi Jeffrey Salking, prominent scholar, speaker, and author of publications, who will address us during Friday evening.
Shabbat Shalom and See you at Beit Kraków