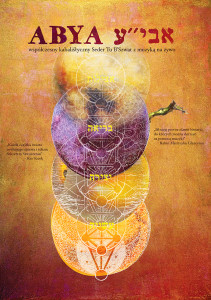 [english below]
"Każda cząstka szaty roślinnej świata śpiewa i tchnie boskim Sekretem Stworzenia"
— Rav Kook
"Istnieją pewne olamot (światy), do których można dotrzeć za pomocą muzyki"
— Rabin Matityahu Glazerson
Beit Kraków i Teatr Żydowski w Krakowie zapraszają na muzyczno-mistyczny wieczór perfomatywny* z okazji święta Tu B'Szewat (Nowy Rok Drzew). W cenie biletu nowatorskie kompozycje muzyczne, podróż do duchowego świata Kabały oraz poczęstunek z wina i tradycyjnych izraelskich owoców.
Dla członków Stowarzyszenia Beit Kraków wstęp wolny – prosimy w miarę możliwości o zgłoszenie obecności do czwartku 21 Stycznia.
 
Pozostałe osoby  zapraszamy do emailowej i telefonicznej rezerwacji: kontakt@beitkrakow.org lub +48 502 304 970 Więcej informacji na naszej stronie www.beitkrakow.org
A tych, którzy chcieliby dowiedzieć się więcej o symbolice sederu , o sefirot (aspektach Boga), czy arba olamot (kabalistycznej strukturze świata duchowego) zapraszamy na wykład otwarty Rabin Tanyi Segal. Wykład odbędzie się 24.01.2016 o g. 17.00 w Żydowskim Muzeum Galicja. Wstęp Wolny.
Chag Sameach i do zobaczenia!
* widowisko muzyczne inspirowane żydowskimi melodiami i tradycyjnymi świątecznymi teksami źródłowymi, wraz z poczęstunkiem i przy udziale publiczności
"Every part of the vegetable world is singing a song and breathing forth a secret of the divine mystery of the Creation."  
— Rav Kook
"There are certain olamot (worlds), which can be reached with music"   
— Rabbi Matityahu Glazerson
Beit Kraków Jewish Community and The Jewish Theatre in Krakow are honored to invite everyone, who is interested in the Jewish past, presence and future to a performative, inclusive, interactive ritual, i.e. a musical approach to a Kabbalistic Seder in Poland. As part of the Tu B'Shevat experience we will provide innovative contemporary Jewish music, deep spiritual experiences and a traditional choice of Israeli fruits and wine. Information & reservations: kontakt@beitkrakow.org
And for those of you who would like to learn more about the symbolism of a Tu B'Shevat Seder (a ritual holiday meal), about sefirot (aspects of G-d), or the arba olamot (the kabbalistic structure of the spiritual world) come to the open lecture by Rabbi Tanya Segal, which will take place on 24.01.2016 in the Galicia Jewish Museum at 5 pm. Admission Free.
Chag Sameach!