"משנכנס אדר מרבין בשמחה"
mi-sze-nichnas adar marbim be-simcha
z rozpoczęciem miesiąca Adar pomnażamy radość
when the month of Adar arrives we should increase our joy

szalom czytelnicy

Nasza tradycja uczy, że kiedy zaczyna się miesiąc Adar powinniśmy pomnażać radość. W tym roku radość jest podwójna, poneiważ mamy aż dwa miesiące Adar.
A w nadchodzący Kabalat Szabat radość będzie jeszcze większa, gdyż będziemy mieć aż dwóch rabinów, bo odwiedzi nas Rabin Boaz Pasz! Rabin Boaz porozmawia z nami na temat"Nie na niebie ona" [lo ba-szamaim hi] – czyli o Torze, która nie jest gdzieś wysoko na niebie, ale blisko nas. Nauczymy się też pijutu związanego z aktualnymi parszami.
Kabalat Szabat z Beit Kraków, kiddusz i rozmowa-spotkanie ("mifgasz" – מיפגש) jak zwykle o 19.00 w Żydowskim Muzeum Galicja ul. Dajwór 18. 
Zapraszamy!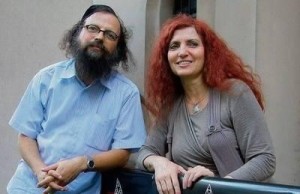 shalom readers

Our tradition teaches us that when the month of Adar arrives we should increase our joy. This year joy is doubled because we have two months Adar, not one. And on the upcoming Kabbalat Shabbat there will be even more joy, as we will have two rabbis not one, because our guest will be Rabbi Boaz Pash! Rabbi Boaz will talk with us about the fact that "She is not in heaven" [lo ba-shamaim hi] – about the Torah, which is not somewhere in heaven, but here – close to us. We will also learn a pyiut connected to our current Torah portions.
Kabbalat Shabbat with Beit Kraków, kiddush and mifgash as always at 7.00 p.m. in Galicia Jewish Museum, Dajwór Street 18.
Shabbat Shalom and See You Soon!
nadchodzące wydarzenia

 w Beit Kraków

 | 


upcoming events

 

at Beit Kraków
Wstęp do Judaizmu | 

Introduction to Judaism
24 Lutego 2016 (środa) g.19.15 | 

February 24th (Wednesday) 7.15 p.m.

Pokój Edukacyjny (ul. Dajwór 14/16) | 

Education Room (Dajwór Street 14/16)


 
Kabalat Szabat z Beit Kraków, kiduszi szabatowe rozmowy z Rabinem Boazem Paszem |

 
Kabbalat Shabbat with Beit Kraków, light kiddush
and shabbat talk with Rabbi Boaz Pash
26 lutego 2016 (piątek) g. 19.00 | 

February 26nd (Friday) 7.00 p.m.

Żydowskie Muzeum Galicja (ul. Dajwór 18) | 

Galicja Jewish Muzeum (Dajwór St. 18)


 
Szacharit i studiowanie parszy |

 Shacharit and Torah Study
27 lutego 2016 (sobota) g.10.30 |

 February 24th (Saturday) 10.30 a.m.

Pokój Edukacyjny (ul. Dajwór 14/16) |

 Education Room (Dajwór St. 14/16)


 
jidysz dla początkujących | yiddish for beginners | 
jidisz far onhejbers | ייִדיש פֿאַר אָנהײבערס
29 lutego 2016 (poniedziałek) g. 19.30 | 

February 29th (Monday) 7.30 p.m.

Pokój Edukacyjny (ul. Dajwór 14/16) | 

Education Room (Dajwór St. 14/16)