[wersja angielska i program – poniżej | english version and full schedule below]
Pobierz jako PDF (PL)  |  Download as PDF (EN)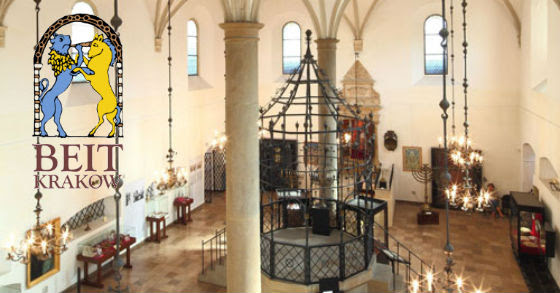 "I stworzył Bóg człowieka na obraz Swój, na obraz Boga stworzył go; mężczyznę i niewiastę stworzył ich."
— Bereszit 1:27
"Ulituje się znowu nad nami, zetrze nasze nieprawości i wrzuci w głębokości morskie wszystkie nasze grzechy"
— Micha 7:19
"Serce czyste stwórz mi Panie,
a ducha stałego odnów we mnie."
— Tehilim 51:12
Rosz Haszana, Taszlich, Jom Kipur… Dźwięki szofaru rozchodzą się z jednego na drugi kraniec świata, przypominając nam, że przed nami intensywny, głęboki, piękny czas Wielkich Świąt – Jamim Noraim, czas powrotu, skruchy, naprawy.
Nowy Rok to czas, gdy możemy na chwilę zatrzymać się w pędzie życia, zjeść pyszne jabłko z miodem, wrzucić "nasze grzechy" w wiślane otchłanie i spojrzeć na siebie: na nas samych, na nas wobec drugiego człowieka, wobec społeczności, wobec Stwórcy. Co starego musi odejść, by przyszło Nowe? Co w nas musi przemienić się, oczyścić, powrócić?
Rosz Haszana to nie kolorowe fajerwerki, lecz prześmiewczy krzyk Azazela dobiegający do nas z głębin naszej własnej, osobistej pustyni, by skłonić nas do właściwych wyborów, do dobrej Drogi.
Nowy Rok – Nowe Życie, Nowa Szansa, Nowe Istnienie, Ślad, Cień – na Obraz Boga.
Obyśmy wszyscy zostali zapisani do Księgi Życia, dobrego, mądrego, dostatniego!
Serdecznie zapraszamy na Slichot, Rosz Haszana, Taszlich, Jom Kipur!
Szczegóły poniżej.
Na wszystkie modlitwy i wydarzenia związane z obchodami Wielkich Świąt obowiązują w tym roku bilety i rezerwacje. Prosimy o dokonywanie rezerwacji pod adresem: kontakt@beitkrakow.org więcej informacji na stronie www.beitkrakow.org
Serdecznie zapraszamy!  Szana Towa u-Metuka!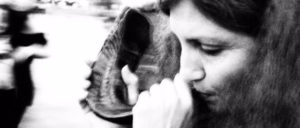 "And God created man in His image, in the image of God He create him; male and female He created them."
— Bereshit 1:27
"You will again have compassion on us; you will tread our sins underfoot and hurl all our iniquities into the depths of the sea."
— Micha 7:19
"Create for me a pure heart, O God,
and renew a steadfast spirit within me."
— Tehilim 51:12
Rosh HaShanah, Tashlich, Yom Kippur… The voice of shofar sounds from one corner of the Earth to another, reminding us about an intensive, deep, difficult and beautiful time ahead – Yamim Noraim, time of return, repentance, repair.
New Year is a time where we can pause in our rat race of life, taste a delicious apple with honey and cast away "our sins" into the abyss of the Vistula river, and look at ourselves with respect to other humans, other community members and the Creator. What old must pass away for the New to enter? What in us must be transformed or cleansed?
Rosh HaShanah is not about colorful fireworks, but about the mocking laughter of Azazel coming from the depths of our own personal deserts, to motivate us to make better choices, choose better paths.
New Year – New Life, New Chance, New Existence, a Mirror, shadow – in the image of God. May we all be inscribed in the Book of life. Have a good, wise and fruitful New Year.
Join us in this special time!
Details below.
This year reservations is obligatory for all the events. Please make reservations until September 30th. Please contact us about the reservation and ticket prices atcontact@beitkrakow.org
 
See you at Beit Krakow! Shana Towa u-Metuka!
Jamim Noraim w Beit Kraków

 | The High Holidays at Beit Kraków


Na wszystkie modlitwy i wydarzenia związane z obchodami Wielkich Świąt obowiązują w tym roku bilety i rezerwacje. Prosimy o dokonywanie rezerwacji pod adresem: kontakt@beitkrakow.org więcej informacji na stronie www.beitkrakow.org

This year reservation for all events is obligatory. Please make reservations until September 30th. Please contact us about the reservation and ticket prices at contact@beitkrakow.org

Hawdala i Wieczór Selichot 

| Havdalah and Selichot Evening

| | |
| --- | --- |
| | 24 września 2016 (sobota) g. 19.00 | September 24th (Saturday) 7.00 p.m. |
| | Pokój Edukacyjny (ul. Józefa 12) | Education Room (Josefa Street 12) |

Wieczór Rosz HaSzana 

| Erev Rosh HaShana

z Rabin Tanyą Segal | with by Rabbi Tanya Segal

2 Października 2016 (niedziela) g. 19.00 | October 2nd (Sunday) 7.00 p.m.
Fundacja Judaica – Centrum Kultury Żydowskiej (ul. Meiselsa 17) |
Judaica Fundation – Center for Jewish Culture (Meiselsa Street 17)

Szacharit Rosz HaSzana

 | Shacharit Rosh HaShana

z Rabin Tanyą Segal | with by Rabbi Tanya Segal

| | |
| --- | --- |
| | 3 Października 2016 (poniedziałek) g. 10.00 | October 3rd (Monday) 10.00 a.m. |
| | Miejsce będzie ogłoszone | The place will be announced |

| | |
| --- | --- |
| | 3 Października 2016 (poniedziałek) g. 17.30 | October 3rd (Saturday) 5.30 p.m. |
| | Bulwary Wiślane (rozpoczynamy ul. Meiselsa 4) | (meeting point Meiselsa Street 4) |

Seder Rosz HaSzana

 | Rosh HaShana Seder

3 Października 2016 (poniedzialek) ok. g. 19.00 |
October 3rd (Saturday) about 7.00 p.m.
Cafe Młynek (ul. Plac Wolnica 7) | Młynek Cafe (Wolnica Sq. 7)

Szacharit Szabat Szuwa

 | Szacharit Shabbat Shuva

z Rabin Tanyą Segal | with by Rabbi Tanya Segal

| | |
| --- | --- |
| | 8 Października 2016 (sobota) g. 10.00 | October 8th (Saturday) 10.00 a.m. |
| | Miejsce zostanie ogłoszone | The place will be announced |

Jom Kippur: Kol Nidre

 | Yom Kippur: Kol Nidre

z Rabin Tanya Segal | with Rabbi Tanya Segal

| | |
| --- | --- |
| | 11 Października 2016 (wtorek) g. 19.00 | October 11th (Tuesday) 7.00 p.m. |
| | Synagoga Stara (ul. Szeroka 24) | The Old Synagogue (Szeroka Street 24) |

Jom Kippur: Szacharit

 | Yom Kippur: Shacharit

z Rabin Tanya Segal | with Rabbi Tanya Segal

| | |
| --- | --- |
| | 12 Października 2016 (środa) g. 10.30 | October 12 (Wednesday) 10.30 a.m. |
| | Synagoga Stara (ul. Szeroka 24) | The Old Synagogue (Szeroka Street 24) |

Jom Kippur: studiowanie

 | Yom Kippur: study g. 16.30 – mincha, czytanie księgi Jona  |
at 4.30 p.m – mincha, reading of the Book of Yona

12 Października 2016 (środa) g. 13.30 – 18.00 |
October 12 (Wednesday) 1.30 – 6.00 p.m.
Pokój Edukacyjny (ul. Józefa 12) | Education Room (Josefa Street 12)

Jom Kippur: Izkor, Neila

 | Yom Kippur: Yizkor, Neilah

z Rabin Tanya Segal | with Rabbi Tanya Segal

| | |
| --- | --- |
| | 12 Października 2016 (środa) g.18.00 | October 12 (Wednesday) 6.00 p.m. |
| | Synagoga Stara (ul. Szeroka 24) | Synagoga Stara (ul. Szeroka 24) |