[english below]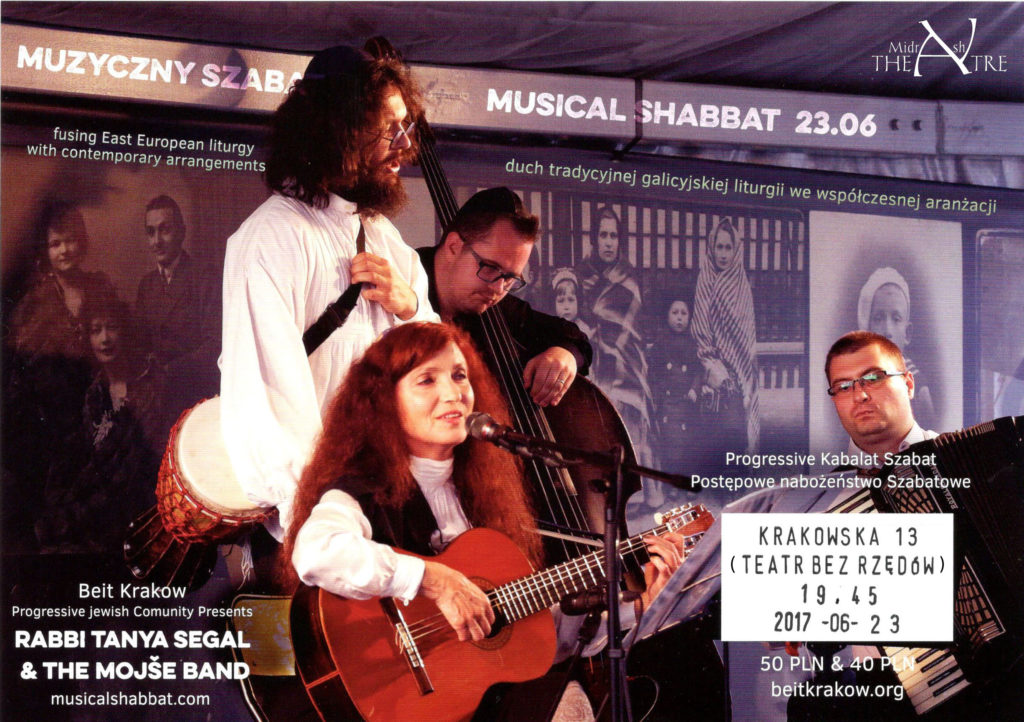 Beit Kraków – Postępowa Społeczność Żydowska Krakowa i Teatr Żydowski w Krakowie – Teatr Midraszowy zapraszają na Szabat Muzyczny w piątek 23.06.2017 o g.19:45, ul. Krakowska 13 (Teatr bez Rzędów).
Szabat Muzyczny (www.musicalshabbat.com) to wyjątkowy muzyczno-liturgiczny projekt, w którym kompozytor Michał Pal'ko łączy w swoich aranżacjach tradycje chazanutu wywodzącego się z Europy Wschodniej ze współczesnymi gatunkami muzycznymi.
Projekt stworzyli i realizują: Rabin Tanya Segal – pierwsza kobieta rabin w Polsce, Michal Pal'ko i Mojše Band
Bilety: 50 PLN
Kontakt: office@jewishtheatre.krakow.pl, kontakt@beitkrakow.org
Występują:
Rabin Tanya Segal (wokal, gitara)
Michal Pal'ko (cymbały, wokal, furulya)
Dominik Frčka (akordeon)
Jakub Stračina (kontrabas)
W języku polskim angielskim i hebrajskim
———————
Jewish Theatre in Krakow – Midrash Theatre and Beit Krakow – Jewish Progressive Community presents:
Musical Shabbat (www.musicalshabbat.com) – progressive Kabbalat Shabbat Service, Friday, June 23rd 2017 at 7.45 p.m. Krakowska St. 13.
This extraordinary musical and liturgical project aims to fuse the tradition of chazanut of the Eastern European region with contemporary musical styles.
Project created and performend by: Rabin Tanya Segal – the first female Rabbi in Poland, composer Michal Pal'ko & The Mojše Band
Tickets: 50 PLN
Contact: office@jewishtheatre.krakow.pl, contact@beitkrakow.org

Starring:
Rabbi Tanya Segal (guitar, vocal)
Michal Pal'ko (cimbalon, vocals, furulya)
Dominik Frčka (accordion)

Jakub Stračina (bass)

in Polish, English and Hebrew
Drodzy, w tym tygodniu niezwykłe postępowe muzyczne nabożeństwo Kabalat Szabat (7.04.2017 – Szabat HaGadol) o g.19.00 w Synagodze Wysokiej. Nabożeństwo poprowadzi Rabin Tanya Segal wraz z Michałem Pal'ko i zespołem MOJŠE BAND. Serdecznie zapraszamy i Szabat Szalom! — Dear Friends, Join us for an unique progressive/reform Musical Shabbat – Kabbalat Shabbat service (April 7th 2017 – Shabbat HaGadol) at 7.00 p.m. in the High Synagogue, led by Rabbi Tanya Segal with Michal Pal'ko and The MOJŠE BAND. Shabbat Shalom!#musicalshabbat#beitkrakow

Opublikowany przez Beit Kraków na 6 kwietnia 2017