[English below]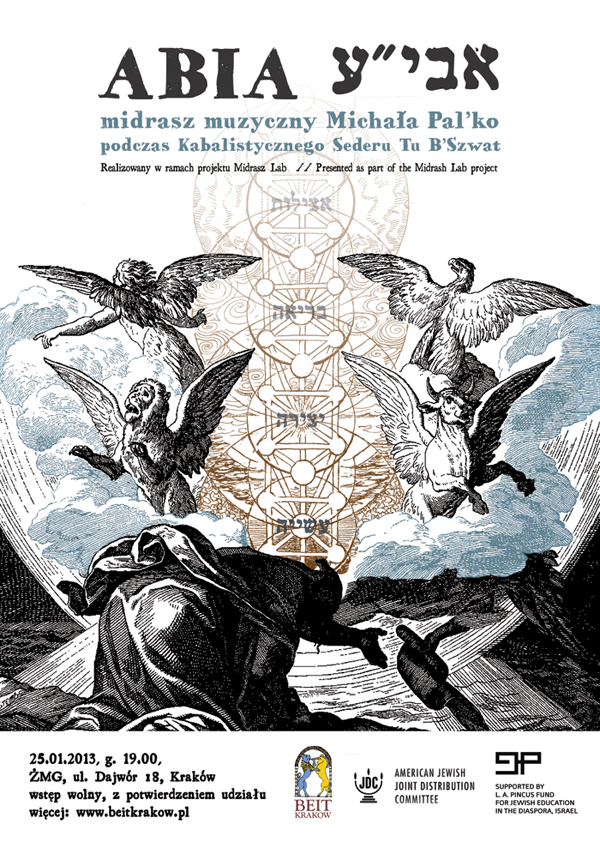 Po ostatnim wyjątkowym doświadczeniu muzycznym – jakim była premiera oryginalnej kompozycji Michała Pal'ko "Szema Izrael", w Synagodze Tempel pod koniec 2012 roku – chcielibyśmy zaprosić na kolejną część projektu Midrasz Lab. Tym razem Muzyczny Midrasz "ABIA" zostanie zaprezentowany podczas Kabalistycznego Sederu (rytualnego posiłku) związanego ze świętem Tu B'Szwat.
Kompozycja ABIA jest inspirowana parszą Beszalach oraz prorocką wizją Ezechiela, która stanowi podstawę kabalistycznego rozumienia konstrukcji świata. Do tej konstrukcji nawiązujemy także specjalną strukturą Sederu Tu B'Szwat.
W przestrzeni Żydowskiego Muzeum Galicja będziemy mogli uczestniczyć w eksperymencie muzycznym, w którym publiczność stanie się integralną częścią utworu. Kompozycję zaprezentują Michał Pal'ko (psalterium, flet basowy), Joanna Jarosz (saksofony), Agnieszka Bała (wokal) oraz Rabin Tanya Segal.
Zapraszamy 25.01.2013, godz 19:00 do Żydowskiego Muzeum Galicja (ul. Dajwór 18, Kraków). 
Wstęp jest wolny, po potwierdzeniu obecności emailem kontakt@beitkrakow.org lub aga.nowak@jpn.pl bądź telefonicznie +666 924 999.
After the amazing success of Michal Pal'ko's previous musical composition – "Shema Israel" which was premièred in the Temple Synagogue in Krakow in December, we would like to cordially invite you to the next edition of the Midrash Lab project. This time the musical midrash entited "Abia" will be presented during the Kabbalistic Tu B'Shevat Seder.
The composition "Abia" is inspired by the parshach Beshalach and the prophetic vision of Ezekiel, which provided a foundation for the kabbalistic understanding of the construction of the world. It is also this construction that we reference with the special structure of the Tu B'Shevat Seder.
In the space of the Galcia Jewish Museum we will take part in a musical experiment, where the audience becomes an integral part of the performance. The music will be presented to us by Michal Pal'ko (psalterium, bass flute), Joanna Jarosz (saxophones), Agnieszka Bała (voices), and Rabbi Tanya Segal.
Join us on January 25th 2013 at 7pm in the Galicia Jewish Museum (ul. Dajwór 18, Kraków).
The entry is open and free upon confirmation of participation via email to kontakt@beitkrakow.org or aga.nowak@jpn.pl or by phone +48 666 924 999.