28.06.2013, g. 20.30, Żydowskie Muzeum Galicja, ul.Dajwór 18. Organizator: Beit Krakow
5.07.2013, g. 20.30, Żydowskie Muzeum Galicja, ul.Dajwór 18. Organizator: Beit Krakow
Tanya Segal (vocals, guitar),  Michal Paľko (flutes, darbuka, vocals) in English, Polish and Hebrew
Admission: 10 PLN (concession)/20 PLN (regular)
Due to limited space, please make reservations with the Galicia Jewish Museum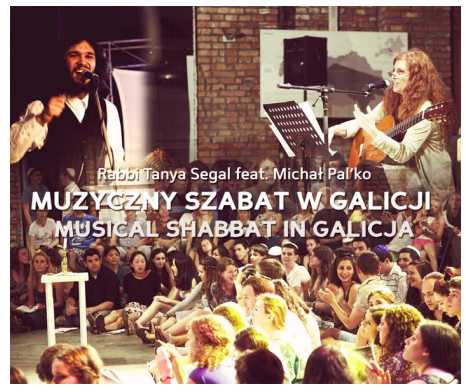 Muzyczny Szabat w swoim zamyśle łączy tradycję chazanutu ze współczesnymi gatunkami muzycznymi. Zapraszamy na nabożeństwo szabatowe, z udziałem postępowej
społeczności Żydowskiej Krakowa, podczas którego zaśpiewamy tradycyjne pieśnisz abatowe w nowej muzycznej aranżacji. Szabat przywitamy w niezwykłej przestrzeni
Żydowskiego Muzeum Galicja wrazz Rabin Tanyą Segal, pierwszą kobietą‐rabinemw Polsce oraz Michałem Pal'ko (Mojše Band).
—
Musical Shabbat aimsto fuse the tradition of chazanut with contemporary musical styles. Join us for a Shabbat service with the Progressive Jewish Community of Krakow and
let's welcome Shabbat together with traditional melodies framed in brand new musical arrangements. The service will be held in the unique space ofthe Galicia Jewish Museum
and led by Rabbi Tanya Segal, the firstfemale Rabbi in Poland, and Michal Pal'ko (Mojše Band).