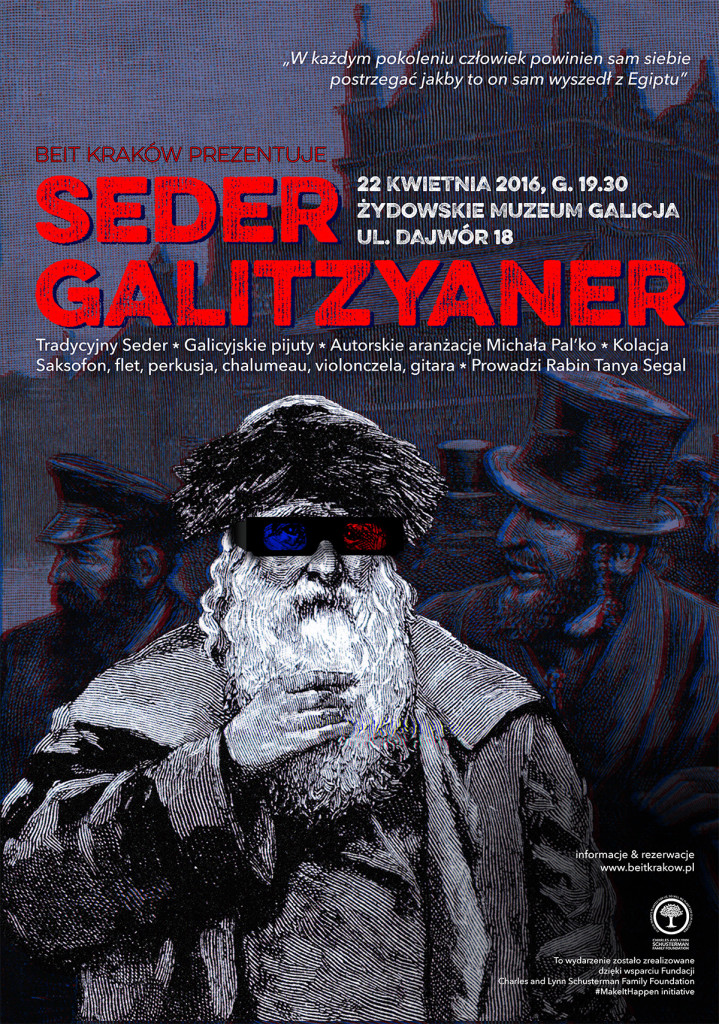 [for english please see below]

 

UWAGA REZERWACJE NA SEDER PESACH!

PROSIMY O KONTAKT W SPRAWIE REZERWACJI DLA PAR I RODZIN

עָנָה דוֹדִי וְאָמַר לִי, קוּמִי לָךְ רַעְיָתִי יָפָתִי וּלְכִי לָךְ. כִּי הִנֵּה הַסְּתָיו עָבָר, הַגֶּשֶׁם חָלַף הָלַךְ לוֹ. הַנִּצָּנִים נִרְאוּ בָאָרֶץ, עֵת הַזָּמִיר הִגִּיעַ, וְקוֹל הַתּוֹר נִשְׁמַע בְּאַרְצֵנוּ
[שיר השירים    ב'   י"א – י"ב]

"Gdy mnie wyzwolił z Egiptu, mój Ukochany wezwał mnie i powiedział mi: Zbudź się, Moja miłości, Moja piękna i chodź, bo zima niewoli już przeszła, zalew gorzkiego cierpienia skończył się i ustał. Sprawiedliwość zakwita na ziemi, czas twojej pieśni nadszedł i głos twojego przewodnika rozlega się po całej ziemi"

[Szir HaSzirim 2:10-12]

 

Szabat Szalom!

W tym roku nasz

Seder Pesach

będzie szczególnie pięknym czasem pieśni, muzyki, modlitwy, spotkania i wyjścia ze swojego "egiptu". Zgodnie z tradycyjnym zaleceniem mówiącym, że "w każdym pokoleniu człowiek powinien sam siebie postrzegać, jakby to on sam wyszedł z Egiptu", spróbujemy wyzwolić się z naszych egoizmów, złości, z naszych przeróżnych ograniczeń, zniewoleń, które ciągle na nowo "każą" nam być niewolnikami własnego "egiptu".

Michal Pal'ko specjalnie dla nas przygotował 
SEDER GALITZYANER, który stanowi autorską, muzyczną oprawę tradycyjnego Sederu Pesach, gdzie oprócz własnych kompozycji Michala, usłyszymy różne aranżacje pijutów galicyjskich. Całość poprowadzi rabin Tanya Segal i Michal Pal'ko, a oprócz pięknych głosów rabin Tanyi i Michala usłyszymy też saksofon, flet, chalumeau, perkusje, wiolonczelę i gitarę.

Gorąco zapraszamy!

Jedzenie (wegetariańskie, bez chamecu) zapewni nam nasza zaprzyjaźniona, sprawdzona, wyśmienita Cafe Młynek!

22 kwietnia 2016, godzina 19.30
Żydowskie Muzeum Galicja, ul. Dajwór 18

Prosimy o dokonywanie rezerwacji najpóźniej do poniedziałku 18 kwietnia 2016 pod adresem email: kontakt@beitkrakow.org

 

עָנָה דוֹדִי וְאָמַר לִי, קוּמִי לָךְ רַעְיָתִי יָפָתִי וּלְכִי לָךְ. כִּי הִנֵּה הַסְּתָיו עָבָר, הַגֶּשֶׁם חָלַף הָלַךְ לוֹ. הַנִּצָּנִים נִרְאוּ בָאָרֶץ, עֵת הַזָּמִיר הִגִּיעַ, וְקוֹל הַתּוֹר נִשְׁמַע בְּאַרְצֵנוּ
[שיר השירים    ב'   י"א – י"ב]

"When he delivered me from Egypt, my Beloved called to me, saying: Awake, my Love, my Beauteous One, and come forth, for the winter of slavery is over, the flood of bitterness is past and gone. Righteousness blossoms on the earth, the time of your song has come, and the voice of your Guide is heard throughout the land."

[Shir HaShirim 2:10-12]

 

Shabbat Shalom!

This year our Pesach Seder will be an especially beautiful time of song, music, prayer, encounter, and deliverance from one's personal 'Egypt'. In accordance with the traditional demand that 'in each generation, each person must regard himself or herself as though he or she personally came forth from Egypt," we shall endeavour to free ourselves from our own selfish concerns, conflicts, and the multifarious limitations and enslavements that repeatedly  "make" us slaves of our own "Egypt".

Michal Pal'ko has specially prepared for us a GALITZIANER SEDER, a musical rendering of the traditional Pesach Seder in which, in addition to Michal's own compositions, we shall hear various arrangements of Galician piyutim.  The whole seder with be led by Rabbi Tanya Segal and Michal Pal'ko and, in addition to their fine voices, we shall hear the sound of the saxophone, flute, chalumeau, percussion instruments, cello and guitar.

We cordially invite you to join us!

The food (vegetarian, no chametz) will be provided from their well-tried, delicious cuisine by our long-standing friends at Cafe Młynek!

22 April 2016, 7.30 p.m.
Galicia Jewish Museum,  Dajwór Street 18

Please make reserverions and confirm payment at kontakt@beitkrakow.org until April 18th.
For payment details please see below.

CHAG PESACH SAMEACH!

 
 
 
wpłaty darowizny na Seder Pesach | 


donation payment details

 

for Pesach Seder
KOSZT KOLACJI SEDEROWEJ:
Członkowie Beit Kraków i studenci: 80 zł./osoba 
Pozostałe osoby: 110 zł./osoba lub 35$/os.
ZNIŻKI DLA PAR I RODZIN – PROSIMY O KONTAKT
Prosimy o dokonywanie wpłat przelewem i przesłanie potwierdzenia na adreskontakt@beitkrakow.org.
 
Tytuł Przelewu:  Imię – Nazwisko – Darowizna na Seder Pesach
Stowarzyszenie Beit Kraków
ul. Augustiańska 4/26
31-064 Kraków
92114010810000218352001008
Bre Bank S.A.
Przypominamy również, że okres świąteczny, to także szczególna okazja na CEDAKĘ!
—————————
COST OF THE SEDER:
Beit Kraków members and students: 80 zl. per person
Others: 110 zł (or $35) per person 
DISCOUNT FOR COUPLES AND STUDENTS – PLEASE CONTACT US
Please make payments by wire transfer according to the instructions below, and send the confirmation to kontakt@beitkrakow.org
Transfer title:  Seder Pesach – Donation
To: Stowarzyszenie Beit Kraków
Address: ul. Augustiańska 4/26, 31-064 Kraków, POLAND
Account number: 92114010810000218352001008
Bank name: Bre Bank S.A.
We would also remind you that the Pesach festival is also a special opportunity for TZEDAKA!