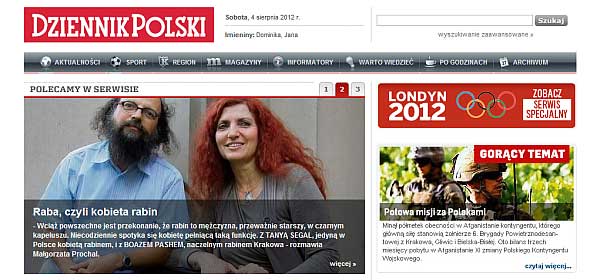 Dear Friends,
I wanted to share with you an article published in a recent issue of one of the largest daily newspapers in Poland. Its a joint conversation by me and my colleague, the Orthodox Chief Rabbi of Krakow – Rabbi Boaz Pash (you can find it here https://www.beitkrakow.org/2012/08/raba-a-woman-rabbi-translated-article/).
I am confident that there are not many other examples of this kind of unique cooperation between the Orthodox and the Reform movements, as we have managed to establish in Krakow. Which is particularily inspiring for me in view of the 150 year anniversary of the presence of the progressive movement in Krakow, which we celebrate this year. And this is only one of many examples of the exciting times that we find ourselves in Poland at the moment.
As Seth Cohen – Director of Network Initiatives of the Schusterman Foundation – wrote in his recent piece about Poland:
Wherever you look, it is inspiring to see a new generation ready to take the reins of leadership in Poland and to reclaim their country's past as they engage in building its future. To name but a few examples: Jonathan Ornstein, the director of the Krakow JCC, has been building a community center for ideas of arts, culture, education and community. Magda Koralewska and Rabbi Tanya Segal are pursuing an idea to reclaim (and renovate) a historic Beit Midrash as a new center of spirituality and creativity in the heart of Krakow. Karina Sokolowska (of the JDC in Warsaw), Anna Makowka (a young leader in Krakow) and the dynamic Chief Rabbi Michael Shudrich are creating communities of engagement and collective responsibility in Poland. And young entrepreneurs like Klaudia Klimek are helping to build new organizations, such as Jewnalism, that connect Poland to other global Jewish communities.
I encourage you to read the full article here : http://ejewishphilanthropy.com/a-responsible-moment-poland-europe-and-the-jewish-future/?utm_source=Tue+July+31&utm_campaign=Tue+July+31&utm_medium=email
And especially the fragment:
But in order for that future to happen, in Poland or elsewhere, it will take more than cheerleading and the application of buzzwords like networks and social capital. (…) The time is now to embrace that question, to bring our collective knowledge, human, relationship and financial capital to help young adults in Poland, in Europe and in countries around the world seize the future.
As you may be aware from the recent article in the WUPJ News (http://www.wupj.org/Publications/Newsletter.asp?ContentID=593#HUNDREDS443) we are working on an exciting initiative to restore a XIXth-century Beit Midrash, located in the center of the historic Krakow Jewish Quarters. The renovated building would serve as a center of Progressive Judaism, Education and Pluralism, Creative Study, Modern Jewish Art and Theatre. But our time is running out if we do not act fast the building is bound to share the fate of so many other buildings in the area and become another hotel, restaurant or club, losing forever its historical value.  We have been granted a short period of exclusivity to raise the funding we need for this project and we are aware that there are commercial takers for this building lining up. 
Please get in touch with us and help us build the long-term sustainability of the Jewish community in Krakow. More than at any time in our recent history, the future and prosperity of the Jewish community in Poland is up to us. It is this generation that will decide whether the dominant discourse about Polish Jews will be expressed in the past or future tense for decades to come. In the spirit of the famous words of Pirke Avot: לא עלינו המלאכה לגמור, אמר רבי טרפון, ואין אנו רשאים להִבטל ממנה, "It is not your job to finish the task, yet neither may you desist from it", I urge you to act with us now and we hope to hear from you.
Yours,
Rabbi Tanya Segal
Krakow 2012
—–
Rabbi Tanya Segal
Beit Krakow Progressive Jewish Community
email: kontakt@beitkrakow.org
phone: +48 510 091 703