17-01-2011 (Poniedziałek | Monday), 
g. 16, Wojewódzka Biblioteka Publiczna ul. ks P. Ściegiennego 13

W ramach Kieleckich Spotkań Chrześcijańsko-Żydowskich "Wiara-Hatikvah-Miłość" będzie wystawiany spektakl "Tajemnice Mojej Babci" w reż. Rabin Tanyi Segal.
Wystąpią: Patrycja Zywert, Agnieszka Bała, Boris Malkovsky. Muzyka: Boris Malkovsky. Scenografia: Agata Nowak.
Po spektaklu odbędzie się spotkanie z Rabin Tanyą Segal.
Pełny program wydarzenia znajduje się na stronie: http://www.jankarski.org.pl/
Honorowy patronat:
ks. bp Mieczysław Cisło – przewodniczący Komitetu ds. Dialogu z Judaizmem
Konferencji Episkopatu Polski,
Michael Schudrich – Naczelny Rabin Polski,
Wojciech Lubawski – Prezydent Miasta Kielc
Organizatorzy:
Stowarzyszenie im. Jana Karskiego w Kielcach,
Instytut Psychologii i Edukacji "Charaktery"
Partner:
Wojewódzka Biblioteka Publiczna im. Witolda Gombrowicza w Kielcach,
Polska Rada Chrześcijan i Żydów
Współpraca:
Muzeum Historii Kielc,
Wojewódzki Dom Kultury im. J. Piłsudskiego w Kielcach,
Wydział Edukacji, Kultury i Sportu UM Kielce,
Parafia św. Franciszka z Asyżu w Kielcach,
VI LO im. J. Słowackiego w Kielcach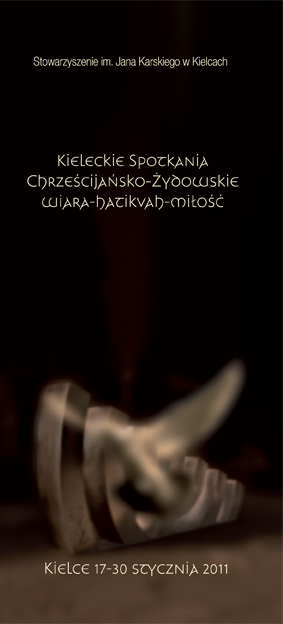 As part of the Christian-Jewish Encounters in Kielce "Faith-Hatikva-Love" the "Mysteries of My Grandma", directed by Rabbi Tanya Segal performance will be shown. Starring: Patrycja Zywert, Agnieszka Bała, Boris Malkovsky. Music: Boris Malkovsky. Set Decoration: Agata Nowak.
After the performance there will be a meeting with Rabbi Tanya Segal.
Full program: http://www.jankarski.org.pl/
Honorary patronage:
bishop Mieczysław Cisło – head of Dialogue with Judaism Committee, Polish Episcopate
Michael Schudrich – Chief Rabbi of Poland,
Wojciech Lubawski – President of the city of Kielce
Organizers:
Association of Jan Karski in Kielce,
Institute of Psychology and Education "Charakters"
Partner:
Regional Public Library Wojewódzka of Witold Gombrowicz in Kielce,
Polish Board of Christians and Jews
Cooperation:
Museum of History of Kielce,
Regional House of Culture of J. Piłsudski in Kielce,
Eepartment of Education, Kulture and Sport of City of Kielce
Parish of st. Francis of Assis in Kielce,
High School of J. Słowacki in Kielce